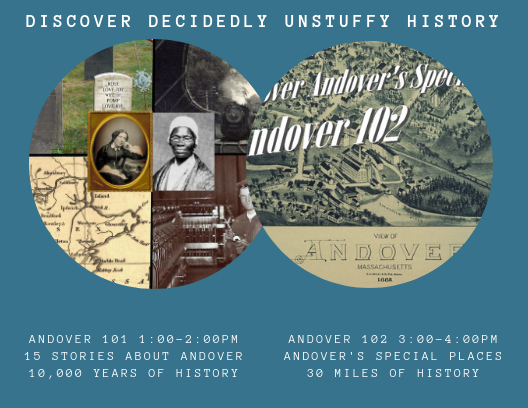 Andover 101 and Andover 102
Discover decidedly unstuffy history!
First there was Andover 101 to introduce you to the essential stories of Andover
10,000 years of history in one hour!
Now there's Andover 102 to take you on a tour of Andover's special places
30 miles of history in one hour!
From beaches to boxing, academies to agriculture, and witches to William Wood, Andover has fascinating, interesting, and surprising stories around every corner.
Both programs are free of charge. Reserve your space today. Sessions fill quickly and space is limited, so early registration is recommended.​
Please register for the Andover 101 and 102 programs by selecting the desired program below.
Andover 101 will begin at 1:00 PM and Andover 102 will begin at 3:00 PM

Please join us for our next  Andover 101 and 102  on Sunday, May 19th.

Register here for

​Andover 102 on June 23rd

Register here for

​Andover 101 on May 19th

 Or if you prefer, call us at 978-475-2236. 
We're happy to take your registration over the phone.